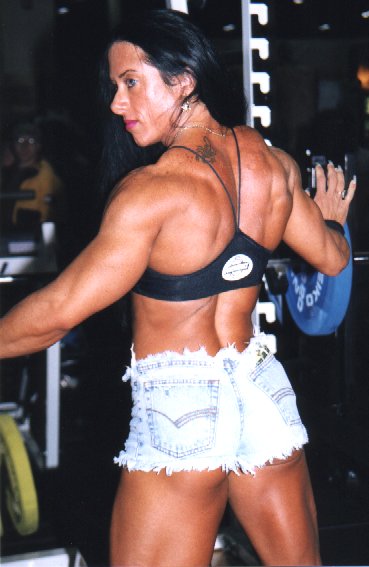 Monica Martin

(not related with Ricky)
She has become the first Brazilian bodybuilder -male or female- to receive a Pro Card of the International Federation of Bodybuilders (IFBB) the main world federation for this sport, recently she has been joined by another women compatriot: Angela Debatin.
Monica has been involved in many other sports throughout her life: cycling, martial arts, gymnastics among others, this activities set her physical base, but she started lifting weights in 1986 as part of her sports training, it took many years for her to decide to take on competitive bodybuilding. It was in 94 when she succesfully competed for the first time wining every college, inter-college, regional and national amateur bodybuilding championship that she went in, as well as beating opponents in international amateur championships, like South-American and Ibero-American Championships.
The next step for her was the World Amateur Woman's & Mixed Pairs Bodybuilding Championships, reaching the 4th spot.
In January 98, she finally earned her Pro Card due to her condition of number one in her country and the continent, and her many national and international victories, which opened the doors for competing in top bodybuilding contests as a professional athlete.


"I dedicate 100% of myself for each competition.
There's no measure to the effort endured
to present a winners body.
I focus on density as much as muscular definition,
without forgetting my femininity.
This is why I value each stage of my
preparation for a fitter and lean body.
Though my relentless work atitudes I am a true
proffessional in my own right and victories."
Currently she competes in high profile North American stages and has entered in the spotlight of the bodybuilding media, appearing in specialized magazines like Flex (May 97, December 98 and June 99), Women's Physique World (December 98, March 99) and Musclemag (January 99). (Note of the webmaster: if any of you have transcripts or scans of these articles, please contact us, thanks.)
Part of the attention she gets from the observers are her flashy looks, nice ripped condition, as well as her excellent legs: prefectly shaped and razor sharp thighs and calves with a good muscle size, which make the greatest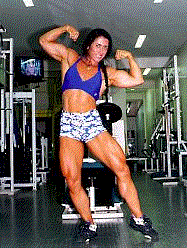 impact in the eyes of the fans (we included!!!). Since her lower body is considered one of the bests in the sport, it used to overpower the upper side, affecting her overall simmetry and stopping her from placing higher in ptofessional events, she has been working hard in adding mass and detail to her top half, leading into a fuller arms and torso and therefore a better balanced and more impressive physique.
Besides her training for top international events like the Jan Tana Classic or Arnold Schwarzenegger's Ms. International, placing Brazil in the top spots of this sport, she is also personal trainer and she is an active promoter of bodybuilding in many states of this country, already enjoying a relatively good popularity in Brazil.
Monica's Hot Shots
... Click on any picture to see it larger ...
Clic aquí para ver ésta página en ESPAÑOL
Clic aqui para ver esta página em PORTUGUES
any comments?
Sign our Guestbook
Send questions or comments to:
SouthPump@hotmail.com