Yaxeni Oriquen
Height: 1.73 mts. or 5' 8"
Weight: 83 kgs. (182 lbs.) offseason, 78 kgs. (172 lbs.) in competition, and keeps growing.
Biceps and Calves= 17"
Quads= 27"
Venezuela has an international reputation of making many beauty queens and it could not be different in the world of bodybuilding. Although much, much, much more muscular than a typical Miss Universe; Yaxeni Oriquen displays a very appealing blend of muscle mass with classy shape and great simmetry, and she smartly takes advantage of her attributes during her routines and posing thanks to her previous experience as a model.
Think of a muscular Jeniffer Lopez. Big and perfectly rounded muscles and a superb condition make one of todays top pro bodybuilders. And a potential future Ms. Olympia.
...the Beef is out there...
We've undercovered Yaxeni muscles, they are so huge that even the FBI could not hide them.
Click on any image to see the truth...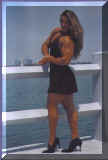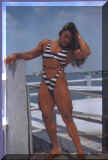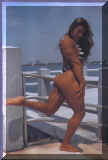 In these pictures Yaxeni is in her off season shape at a massive weight of 180lbs very well distribuited in her 5'8" frame. Her huge biceps, calves and quads are beyond imagination! She wears 5 different outfits all showing off her incredible musculature to its fullest. Shot outside at Yaxeni's pool the lighting is perfect and the scenes shows her flexing and posing as only Yaxeni can do it.


Her past experience as a model makes her posing routines incomparable and her extreme beauty also enhances her every move. This lady has biceps from hel!! Huge thick muscles pop out at you as you watch in almost disbelief of how a woman can get so magnificently huge!! Her quad muscles are massive with huge muscle bellies that seem to go on for ever. Eye popping grace, beauty and muscles.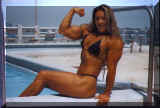 Yaxeni's New Page + more pictures!
Clic aquí para ver ésta página en ESPAÑOL
Clic aqui para ver esta página em PORTUGUES

refer this site to a friend!
any comments?
Sign our Guestbook
Send questions or comments to:
SouthPump@hotmail.com