Yaxy
Sexy
the Miami Muscle Machine
New pictures of the Venezuelan Phenom
Yaxeni Oriquen is proud of her muscles, she loves to turn heads and generate reactions -positive or negative- regarding her impressive muscular development, but she also knows that not the majority of women wish to look like she does. Weighting over 80 kilograms (180 lbs.), just a small percentage of them is fat, and with 43 cms. biceps, the Venezolan amazon is the highest ranked hispanic in the world of female bodybuilding.
Nevertheless, the also physical trainer from Miami declares that a growing number of women—"much more than before"—are moving into the weights room as a way to improve their look and health. There is yet too much fear between the ladies, she says, some think that just touching the weights biceps like Popeye's will automatically pop up. But the athlete explains that building muscle is by far harder than most people think, and the sport of bodybuilding "is too sacrificed", to the extreme that "you have to isolate from the world, from the normal people and your mind has to be supremely concentrated and focused"
She's built her spectacular body thanks to a lot of effort during more than a decade of hardcore training with heavy weights, a strick diet plan and a unbreakable will to not yield to ever-present temptations like fat-charged food.
Her clients, specially women are not quite interested in being as huge as her, but they want to get harder "with separation between their biceps and triceps, and more solid, stronger, better shaped legs". And many fitness authorities agree that lifting weights is one of the most efective ways to lose weight, harden the body and gain muscle definition.
Oriquen states that women who are looking for a leaner (more feminine , sic.) appearance, should train with moderated weights and do more repetitions than men. Every set, must consist of 15 to 25 reps. She adds that women should rest less time than men between sets—around 30 seconds—and also perform aerobics and cardiovascular exercises to their training regime.
Onstage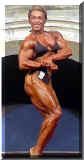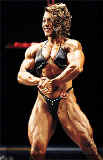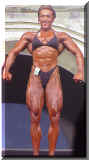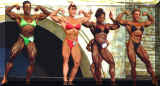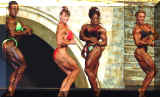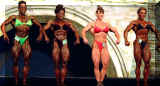 Prejudging with Iris Kyle, Denise Hoshor and Th-resa Bostick


This 4 Clips of Yaxeni are picked from Muscle Goddesses, Danke Andy!
Clic aquí para ver ésta página en ESPAÑOL
Clic aqui para ver esta página em PORTUGUES

refer this site to a friend!
any comments?
Sign our Guestbook
Send questions or comments to:
SouthPump@hotmail.com